Stainless Steel Pipes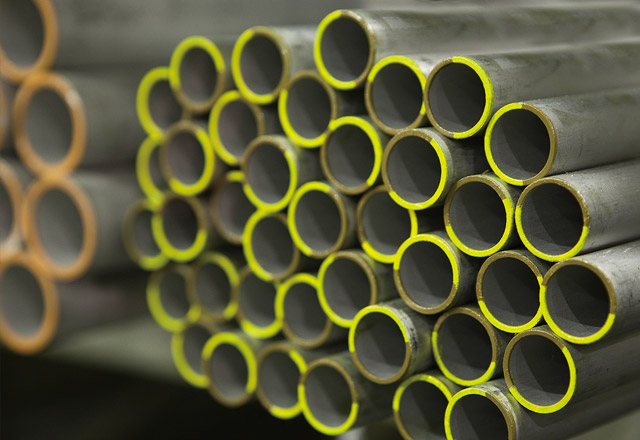 1. Major Steel Types
SUS 304
SUS 304L
SUS 304A
SUS 310S
SUS 316
SUS 316L
SUS 329J4L
2. Most Popular Dimensions
Round tubes and pipes
Seamless steel tubes and pipes: φ1.59 to φ406.4
Welded steel tubes and pipes: φ6 to φ609.6 (up to φ2200 when custom-made by manufacturer)
Square tubes and pipes
□7×7 to □400×400
Special tubes and pipes
Various types manufacturable (inquiries welcome)
3. Most Popular Finish
Pickling, BA, EP, exterior polish (decoration pipes), interior/exterior polish (sanitary pipes)
4. Joints and Flanges
Products

5. Ultra High Purity Super Clean Pipe
Nippon Steel & Sumikin Stainless Steel Pipe's "Ultra High Purity Super Clean Pipe" features an inner surface with superior smoothness, made of high cleanliness steel for semiconductor manufacturing equipment smelted at NIPPON STEEL CORPORATION. Ultra High Purity Super Clean Pipe is a high-precision product manufactured using state-of-the-art facilities and quality controlled to meet ISO 9001 (JQA-1241, JQA-QM9230).
Types of Ultra High Purity Super Clean Pipe
Seamless Pipe
SUMICLEAN M (Double Melt VIM / VAR)
Steel types SUS316L
Surface finish EPS
Product with high corrosion resistance using double-melt material with minimized impurity elements and non-metal inclusions.
SUMICLEAN C (Single Melt)
Steel types SUS304, SUS316, SUS316L
Surface finish BA, BAS, EPS
Single-melt product available in a range of steel types and size variations to match any component material.
Welded Pipe
SUMIWEL CLEAN PIPE
Steel types SUS316L, (SUS304)
Surface finish BAS, EPS
Large-diameter welded pipe with superior quality in dimensional accuracy and inner surface roughness.
Grade
O.D.
[mm (inch)]
Material
Finishing Grade
BA
BAS
EPS
SEAMLESS PIPE
SUMICLEAN M
(Double Melt VIM / VAR)
3.18 (1/8") ~ 12.7 (1/2")
316L
○
SUMICLEAN C
(Single Melt)
3.18 (1/8") ~ 60.5 (50A)
316L
316
304
○
○
○
WELDED PIPE
SUMIWEL CLEAN PIPE
76.3 (65A)
UP
316L
(304)
○
MPS
○
MPS: Mechanical polishing + super micro cleaning
(Source: Nippon Steel & Sumikin Stainless Steel Pipe Co., Ltd.)
Standard Stock List
OD
(mm)
WT
(mm)
SUS304
BA
SUS316
BA
SUS316L
BA
SUS316L
EPS
SUS316L
BAS
SUS316L
WEPS
(VIM/VAR)
1.59
*1.0 Φ(ID)
2M
1.59
*0.8 Φ(ID)
2M
2M
2
0.50
2M
3
0.50
2M
2M
3
1.00
2M
4M
2M
3.18
0.50
2M
2M
3.18
0.72
2M
1M
2M
2M
2M
3.18
0.89
2M
4
0.50
2M
2M
4
1.00
2M
4M
2M
4.8
0.50
2M
2M
5
0.50
2M
6
0.50
2M
2M
6
1.00
2M
4M
2M
4M
4M
6
1.50
4M
6.35
0.50
2M
6.35
0.89
2M
4M
2M
6.35
1.00
2M
4M
2M
4M
2M
4M
4M
2M
4M
2M
4M
6.35
1.24
4M
6.35
1.65
6.35
*2.1 Φ (ID)
2M
8
1.00
2M
4M
2M
4M
4M
9.53
1.00
2M
4M
2M
4M
2M
4M
4M
2M
4M
2M
4M
9.53
1.24
4M
4M
9.53
1.65
4M
4M
10
1.00
2M
4M
2M
4M
4M
12
1.00
2M
4M
2M
4M
4M
12.7
1.00
2M
4M
2M
4M
2M
4M
4M
2M
4M
12.7
1.24
2M
4M
2M
4M
2M
4M
4M
4M
4M
12.7
1.65
4M
15.88
1.00
4M
15.88
1.24
4M
15.88
1.50
4M
4M
19.05
1.24
4M
4M
2M
4M
4M
4M
19.05
1.65
4M
2M
4M
4M
25.4
1.65
2M
4M
4M
17.3
1.20
4M
21.7
1.65
4M
4M
27.2
1.65
4M
4M
34
1.65
4M
4M
42.7
1.65
4M
4M
48.6
1.65
4M
4M
60.5
1.65
4M
4M
Coil Tube
OD
(mm)
WT
(mm)
SUS304
BA
SUS316
BA
SUS316L
BA
1.59
*0.8 Φ (ID)
30M
2.00
0.50
30M
3.00
0.50
30M
30M
3.18
1.00
30M
30M
3.18
0.50
30M
30M
30M
4.00
0.72
30M
4.00
0.50
30M
30M
6.00
1.00
30M
50M
30M
6.35
1.00
30M
50M
30M
8.00
1.00
30M
50M
30M
9.53
1.00
30M
30M
10.00
1.00
30M
50M
30M
12.00
1.00
30M
30M
* inside diameter
We are also handling:
Plate (up to 150mm thickness)
Round Bar (up to 530mm diameter)
Square Bar (up to 100mm x 100mm)
Square Pipe (up to 400mm x 400mm)
Rectangular Pipe (up to 500mm x 300mm)
Flat Bar (up to 100mm x 150mm)
Fitting & Valve
*Available "Milling" in our facility.
*Available to cut above materials in our facility.
(except Fitting & Valve)
6. Other information
Technical services
We will visit you with the manufacturer's engineers for an explanation.
Cutting equipment
Band saw, metal saw
Major centers


Business Locations

Mishima Steel Service Center, Osaka Distribution Center