Quality assurance and control of stainless steel require extreme care. UEX has obtained ISO9001 certification for advanced quality assurance and control.
1. ISO9001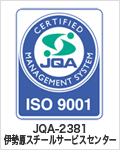 2. Stencil Transfer Permission
Strict product control is implemented in the Isehara Steel Service Center, based on quality manuals and operation standards and under the instruction of suppliers. The Center has permission to make in-house stencil transfer (mark shift) from NIPPON STEEL Stainless Steel Corporation for stainless steel plates and similar permission from NIPPON STEEL CORPORATION for titanium plates. The Mishima Steel Service Center has permission from Daido Steel Co., Ltd to put a logo mark of the manufacturer on its round bar products.