Processed Products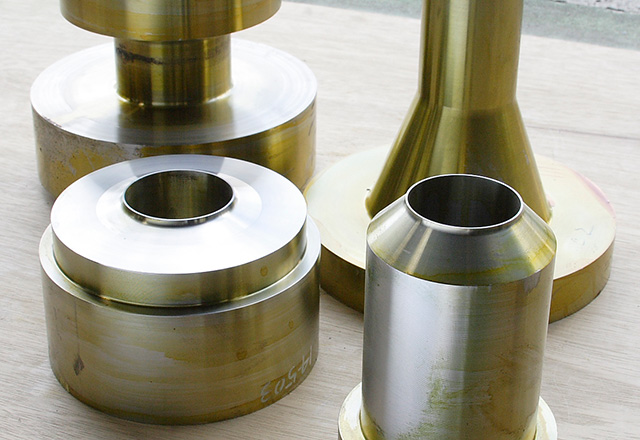 Processing Types
Plastic processing
Forging
- Hot free forging, hot die forging, cold die forging
- Rolling mill, upset, parts former (cold forging), etc.
Forming
- Extrusion, pultrusion, rolling, roll forming, embossing, grating
- Burring, bulging, etc.
Bending
- Press bending, roll bending, bender bending, high-frequency bending, etc.
Drawing
- Spinning, spinning machine, press die drawing, swaging, etc.
Punching
- Turret punching, press punching, fine blanking, etc.
Threading
(rolling, cutting)
- Various types of bolts and nuts, knurling, etc.
Melt process
Casting
- Sand mold, lost-wax, semi lost-wax, centrifugal casting, die casting, gravity, shell mold, etc.
Injection
- Sintering, MIM
Melt process
Cutting
- Laser, 3D laser, plasma, band saw cutting, shearing, water jet, wire, slit, etc.
Machining
- Milling, grinding, lathe, NC lathe, machining center, planer, turning, BTA, gun drill, honing, center-less, electrical discharge, etc.
Polish/Grinding
- Buffing, belt grinding, HL polish, vibration polish, electrolytic polishing, barrel polish, etc.
Others
- Etching, etc.
Attaching process
Cladding
- Rolling clad steel plates, explosion clad steel plates, pultrusion clad pipes, etc.
Special bonding
Friction pressure welding, flash butt, etc.
Welding
- Plate working (tank, reaction vessel, heat exchanger, tower, etc.), welding compliant with applicable laws and regulations (Designated Equipment for High-Pressure Gas, Class-1 Pressure Vessel, Class-1 Pressure Vessel, etc.), welded steel shapes (H-shaped, I-shaped, T-shaped, L-shaped), straight seam steel pipes, handrails, fences, mounts, prefab pipes, unit assembly, etc.
Surface treatment
- Pickling, plating, painting, blasting, coating, nitriding, carburization, flame spray, build up welding, etc.
Heat processing
Heat treatment
- Quenching and tempering, annealing, normalizing, solution heat treatment, precipitation hardening (age-hardening), vacuum heat treatment, etc.
* Processing category and process names may not be consistent for simplification reasons.
* The above table lists handled products and does not indicate stock availability or equipment owned.